← Back to all 2021
Benjamin Hucker, P.E.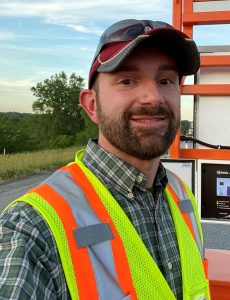 Benjamin Hucker
District Traffic Operations Engineer
Iowa Department of Transportation
2300 SE 17th St Grimes, IA 50111
Email: benjamin.hucker@iowadot.us
Office: (515) 986-5458
Cell: (515) 249-8258
I have been working in various roles and capacities in the transportation industry for the past 14 years. As a college student at Iowa State University, I served as a part-time transit bus operator for the City of Ames Transit Agency (aka CyRide) and also completed multiple internships with the Iowa Department of Transportation in the areas of design, construction, and maintenance. Upon graduating from Iowa State in 2011, I accepted a position with Stanley Consultants as a civil engineer, performing various roadway layout and site design functions.
In 2013, I accepted an offer to come back to the Iowa DOT, working in the area of construction project inspection and contract administration in northeast Iowa. Four years later, I was promoted to the position of Resident Construction Engineer in the greater Des Moines area, overseeing all construction inspection and contract administration functions for projects on three interstates (I-35, I-80, and I-235) and several US and state highway routes that work in concert to serve a population of over 700,000 residents and even more cross-country travelers. While technically a construction engineering position, a significant portion of my time was spent working on work zone and traffic management challenges.
With this experience, I accepted a promotion to the newly-created position of District Traffic Operations/TSMO Engineer in November of 2020, where I serve as the District's representative on our Des Moines area Integrated Corridor Management team, as well as assist with all traffic operations and management functions in the District.
Video: Something I am proud of in my professional life AND Something You Would not know about me from looking at my bio or resume.