← Back to all 2021
Jonathan Weishaupt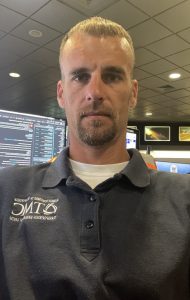 Jonathan Weishaupt
Transportation Management Center Supervisor
Delaware Department of Transportation
169 Brick Store Landing Rd Smyrna, Delaware 19977
Email: jonathan.weishaupt@delaware.gov
Office: (302) 653-4623
Cell: (302) 222-5975
I started with DelDOT in 1998 as a Sign Installer. In January of 1999, a job was posted for an entry level technician at TMC and I applied for it. I was hired and started in July of 1999. Throughout the next 4 years, I was promoted up to the highest technician level the career ladder allowed. In October of 2007, I applied for and was promoted to TMC Supervisor. In my current capacity, I supervise the Operations Room along with three other Supervisors ensuring the safe travels of everyone within our Transportation System(s).
Video: Something I am proud of in my professional life.
Video: Something You Would not know about me from looking at my bio or resume.