← Back to all 2021
Juan "John" Arias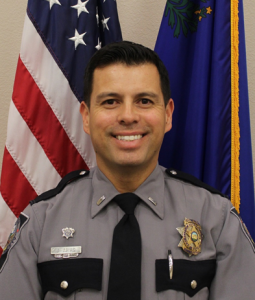 Juan "John" Arias
Lieutenant, Commercial Commander for Southern Nevada
Nevada Highway Patrol Southern Command
4615 W. Sunset Rd Las Vegas, NV 89118
Email: jarias@dps.state.nv.us
Office: (702) 432-5107
Cell: (702) 250-5369
I have over 16 years of experience in law enforcement specializing in Traffic Incident Management (TIM) and critical Incident Command Systems. I have been an innovator for my agency in developing training, training exercises, and collaborating with new technologies to improve interoperable communication and coordination with allied agencies and private partners. I was the exercise director to the state's first multi-agency, full-scale, TIM Exercise that incorporated 9 allied agencies and 7 private partners in 3 full scale exercises.
I am currently in charge of Southern Nevada's Commercial Enforcement Operations and manage innovative strategies to mitigate risks in high crash corridors in Las Vegas. I helped coordinate and develop Strategic Traffic Management Sites (STMS). This involves data analytics, roadway design, site focused enforcement, and dynamic messaging. These have consistently shown a reduction of crashes by 18% and reduction of excessive speeding by 43% within the STMS corridor. I have over 6 years of experience leading teams and delivering high value innovative projects while incorporating local government allied agencies, private partners, and contractual vendors to improve operational performance and enhance public safety on Southern Nevada roadways.
Video: Something I am proud of in my professional life AND Something You Would not know about me from looking at my bio or resume.