← Back to all 2021
Newman Abuissa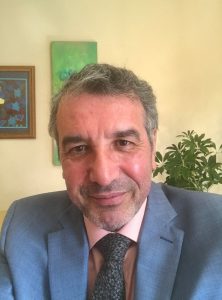 Newman Abuissa
Operations Engineer
Iowa Department of Transportation
5455 Kirkwood Blvd SW Cedar Rapids, Iowa 52404
Email: newman.abuissa@iowadot.us
Office: (319) 331-2949
Cell: (319) 331-2949
I am the TSMO Engineer working Iowa DOT, District 6. I have been working for Iowa DOT for more than 32 years. I am a native of Damascus, Syria and speak fluent Arabic.
I have 4 children and am active in the Iowa City Community in many ways, from advocating for peace and justice to helping establish the St. Raphael Orthodox Church.
Also, I appear on International TV stations for the Arabic public including BBC, Aljazeera, France 24, and RT, explaining the American political environment from the Iowa Caucus to elections and other Middle East involvements.
Video: Something I am proud of in my professional life AND Something You Would not know about me from looking at my bio or resume.